Being that soccer is a global game it makes perfect sense that the Ballistic United Soccer Club reaches out to help the game in other countries.
Once such place is in the Mexican state of Quintana Roo. Best known for cities like Cancun and Playa del Carmen, the state is also home to some run down areas.
Chemuyil is located on the coast with beautiful beaches, but the are also areas that need help – badly.
FC Chemuyil is a youth soccer club of 30 players from 6-to-15 years of age. Their fields are largely dirt and are in a horrible condition.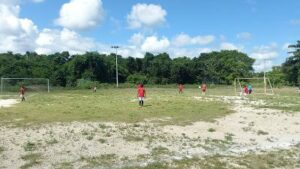 Most of the goals have no nets and the balls are badly worn out.
Former BUSC Rec director Tony Chavarria has taken the club under his wing. Chavarria has done six clinics in the city and last April, BUSC sent down a bag of supplies, including balls and gear for the players and coaches.
Former BUSC player Gordon Lang was along for one clinic.
"They really appreciate everything (BUSC) has done so far," said Chavarria, who plans to head down again in October. "The soccer field was to be funded by the government, but that got stopped."
One look at the fields shows the state of disrepair they are in, but with continued help from people like Chavarria and organizations like BUSC, there is a light at the end of the tunnel for the kids of FC Chemuyil.
If you would like to help the kids of FC Chemuyil, contact Chavarria at (925) 487-9173.