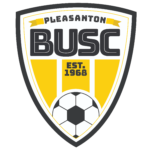 Fall Recreational soccer is a large component of the Ballistic United Soccer Club with approximately 70% of all players participating at this level. The primary objective of the Recreational Program is to provide a positive, low-pressure, soccer experience for the youth of our community.
Fall Recreational soccer is the BUSC team option for traditional outdoor soccer with the lowest commitment level, both in terms of time and cost.
BUSC also hosts recreational opportunities for youth players throughout the year, including the annual BUSC/RAGE Summer Soccer Day Camp, Friday Fall Rec Clinic, and Winter/Spring Rec. There is also a co-ed recreational opportunity for adult players, Pleasanton Adult Sunday Soccer (PASS).
Team placements are not required for our recreational program. All players who register are assigned to a team as long as space is available on team rosters, and players are assigned by their home elementary school within the Pleasanton Unified School District. Per U.S. Soccer requirements, players register by their birth year, NOT by school grade. For more details on this, see Age Group Determination
For fun, for exercise, to enjoy soccer in a less competitive environment.
Fall Recreational soccer is dependent upon volunteer coaches. Simply, the volunteer coaches are the backbone of the club. Recreational coaches enjoy a reduced registration fee for their child's participation (reimbursed at the end of the season)
BUSC provides recreational coaches an education program that is designed and alligned within the clubs philosophy, mission and values. Coaching education for BUSC includes grassroots coaching licenses, team training sessions (with recreation director), access to MOJO app and our specific age group programming.
Our goal is to provide players with a fun, safe and developmentally appropriate environment that will help foster a long-term passion for soccer.
BUSC provides US Grassroots Coaching Courses (4 hours) FREE of charge for our coaches.  Additionally, BUSC provides additional coach education opportunities and access to MOJO application (training programs with weekly curriculum)
Mid-August through Late October/Early November
Frequency: 1-2 Times/Week, dependent upon age group and coach preference.
Length: 45-90 minutes, dependent upon age group and coach preference.
U5-U6 programs take place on Saturdays only (some coaches may choose to practice on their own)
U7's practice on Tuesdays (scheduled by club) and play on Saturday's
U8's practice on Wednesdays (scheduled by club) play on Saturday's
NOTE- U7-U8 coaches may schedule practices outside of club scheduled days, due to their availability.
U9 and older practice details are determined by coaches based upon their availability, though we provide available field options to the older age groups should the coaches choose to utilize them.
U7-U12 also have scheduled coach and player education sessions with the clubs Recreational Director throughout the Fall (these sessions are generally scheduled on Tuesdays, Wednesdays and Thursdays) at Sports Park Field 3.
NOTE: This means BUSC does not assign players to teams according to date/time preferences, nor are we able to accommodate requests for specific dates.
Primarily once a week on Saturdays. Occasionally, a team may have more than one game on a weekend or may be scheduled on a Friday evening or Sunday. Our U9-U14 age groups will have a multi-game tournament the last weekend of October.
U5-U12 age groups play other BUSC teams locally and in town. Scores and standings are kept at the U9-U12 age groups and older.
U14, U16 and U19 age groups play other nearby soccer Clubs in a recreational division in Northern California. Away games will be outside of Pleasanton, generally, not more than 30 minutes from Pleasanton.
Teams receive their game schedule from their coaches in early-mid August. Locations are typically in parks throughout Pleasanton.
Opening Day Parade in Downtown Pleasanton
Each player may submit ONE buddy request. We do our best to meet all buddy requests which meet the requirements laid out below, but on rare occasions, it may not be possible. In order for a buddy request to be considered, the following requirements MUST be met:
Requests for buddies must be MUTUAL. Both players must make the request for one another in order for a match to be made.
Requests for buddies must be for players BORN IN THE SAME BIRTH YEAR (ie both born in 2012). If one child was born in 2012 and the other in 2011, they cannot be placed on the same team because they are not in the same US Soccer age group.
Requests MUST be made online in the registration process. Requests made via email cannot be considered. Changes to your buddy request can be made in your registration through June 30. Changes made after June 30 will not be able to be accommodated.
BOTH players must be fully registered and paid no later than June 30.